From 60's design to 2018.
Interior update with luxurious flair.
THIS FLAT WAS BUILT IN THE 60'S AND WAS NOT HORRIBLE, EXCEPT THE BATHROOM. THAT WAS ABSOLUTELY OLD, UGLY AND HAD MANY TILE COLORS. ANSARIDESIGN UPDATED THE APARTMENT WITH STATE OF THE ART DESIGN ELEMENTS AND NATURAL MATERIALS.
LET'S TAKE A LOOT BEFORE THE UPDATE.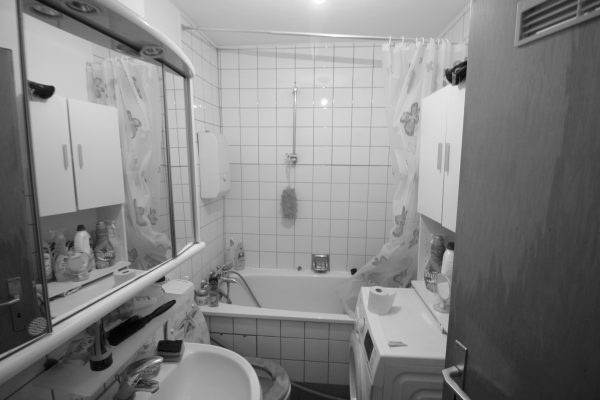 Small tiles in the bathroom, large arm water heater at wrong position. Old and unhygienic toilet and old appliances. Floors were PVC and old tiles in the other rooms. Goal was an update to the todays desires and design requirements.
WE NOW PRESENT THE UPDATE.
The bathroom was torn apart and new XL stone tiles were used for the walls and patterned tiles for the floor to create a contrast and a stylish design flair. The appliances are all from Grohe, squarish and contemporary looking. A new wall heater and bigger bathtub with shower area were integrated to have better luxurious times. Together with the LED illuminated shelf, the experience got from poor to luxury.
The flooring of the other rooms were changed vom PVC/ tiles to oak wood boards with 10cm high room sills to get a contemporary touch. The corridor had a dark and cold flooring and was changed into warm oak flooring, giving the space a totally new atmosphere, more sophisticated, warm and bright.