LOUNGY. THE AWARD WINNING LAMP CONCEPT.
A symbiosis of furniture & lighting.
THE COMBINATION OF THE SIMPLE, SCULPTURAL AND ORGANIC DESIGN OF A FLOOR LAMP, AND THE COMFORT OF A LOUNGE CHAIR WERE MERGED, RESULTING IN AN EXTRAVAGANT AMBIENT FLOOR LAMP AND ROCKING LOUNGE CHAIR FOR DISPLAY. ADAPTING TO PEOPLE'S NEEDS AND DESIRES, IT CREATES AMBIENT ATMOSPHERES WITH MANIFOLD DIFFUSED LIGHTING COLORS AND OFFERS USERS A RELAXING AND OUTSTANDING TIME.
Awarded with the HIGHLY COMMENDED AWARD.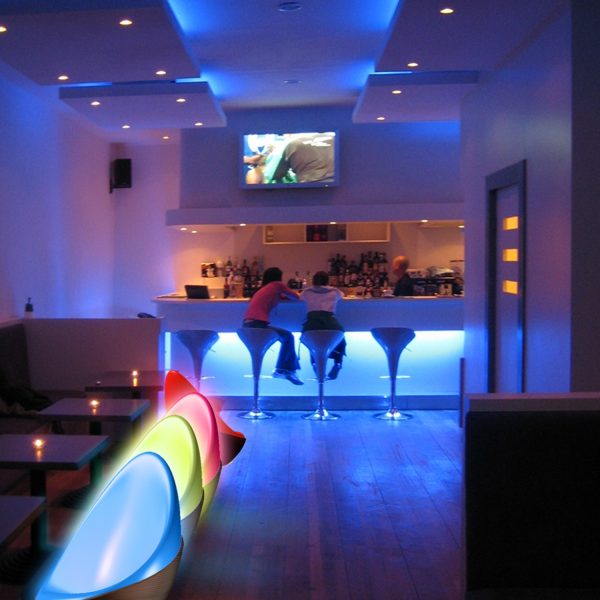 Loungy can be used anywhere. Not only public places such as bars, lounges or living rooms are the perfect location for this light, but also exterior places like patios get more ambience.
As a result of 3D user testing, a good ergonomic form was achieved and the "rocking" feature was tested with 95%ile males. Additionally, the relation between hip-and heel-point was analyzed, so as to prevent the chair to tip over when in use. Loungy can be tilted 8º in both directions, creating a perfect comfort. Loungy was awarded with the Highly Commended Prize 2007.
Loungy comes with a remote control, being able to change the LED light to hundreds of colors. The outer shell is made out of rattan, a natural material combined with organic shapes. The seating area is made out of PET, durable enough to carry 250kg, yet transparent for its full illumination. Even the hard PET material ist comfortable, due to ergonomic testings that were conducted. Thus, even longer relaxing times will stay comfortable for Loungy's users.
Next to the hidden retractable cable underneath the Loungy, the LED can also be powered by an integrated rechargeable battery, having enough energy for up to 8 hours.
The almost invisible aluminium guides are mounted at the bottom, helping a smooth tilting feature. The integrated stoppers and rubber pads avoid a users tipping over and misuse and offer a 360º user experience.
This project was extremely fun, because we believe lighting is an essential medium for humans. So is furniture and the movement of swinging in a hammock . The merging of all the above is Loungy.