FREECROSSER. THE ULTIMATE WORKOUT.
The crosstrainer for the outdoors.
THE START-UP'S INTENTION WAS TO CREATE A CROSSTRAINER FOR THE OUTDOORS.
RAMIN ANSARI FELL IN LOVE WITH THIS CHALLENGE. THOUGH, SOON REALIZED THAT IT IS A BIGGER CHALLENGE THAN BELIEVED. THE CROSSTRAINER NEEDED TO BE FOLDABLE, LIGHTWEIGHT AND STEERABLE WITHOUT LOOSING THE MOVEMENT OF A CROSSTRAINER.
The ideation phase was very exciting, bringing the cross trainer on the roads.
Together with the engineering office Bertrandt AG in Cologne, the challenge was tackled and a balance-steering was developed.
Inspired by outdoor sports, round tubes were used for the design. It was a challenge to still generate a simple, ergonomic and functional design. That was achieved by using different tube sizes and radiis that in combination, create a harmonious appearance.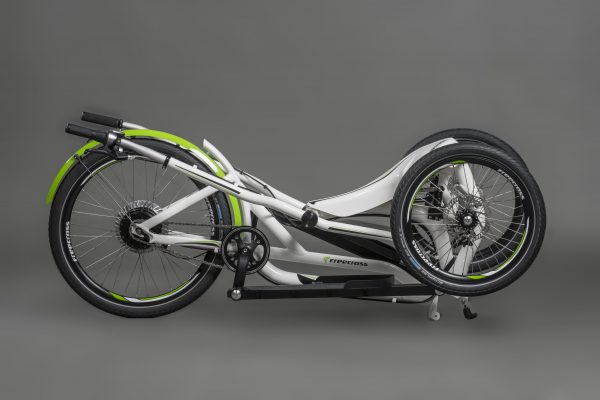 The experience on the freecrosser is outstanding and fun, while simultaneously working out in fresh air. The project was so exciting and all passion was put into its development.
The reward of that teamwork was the Eurobike Award in 2010, which AnsariDesign is proud of.