DEMONSTRATING NFC TECHNOLOGY.
NFC easily explained visually.
3M NEEDED A DEMONSTRATOR TO EXPLAIN DIFFERENT NFC CHIPS WITH DIFFERENT INFORMATION. THUS A DEMONSTRATOR WITH INTEGRATED READER AND MULTIPLE NFC INFORMATION THAT IS DISPLAYED ON A SCREEN. THIS DEMONSTRATOR WAS DESIGNED AND BUILT FOR 3M SALES MANAGER EXPLAINING 3M'S NFC PRODUCTS TO CLIENTS.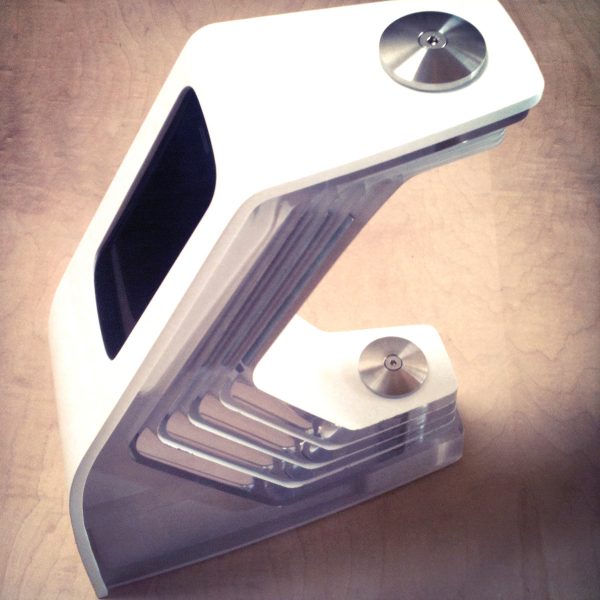 For this demonstrator, a creative way of displaying 3M's NFC technology products was needed. From scratch a ideation phase defined the design and an easy way to show the NFC information on a separate screen. Result was a smartphone with an NFC reader, build into the 3M demonstrator. The different NFC chips are integrated and visually placed onto the 4 demonstrator's elements that can be swiveled around. Each element has a separate NFC information displayed onto the smartphone when turned behind the smartphone. That way 3M clients get informed about the manifold NFC technologies 3M offers.
The demonstrator's form is technical with edges, half transparent and half colored in white, symbolizing the high tech topic.